The Oracle Patio Cafe Invites you to Attend…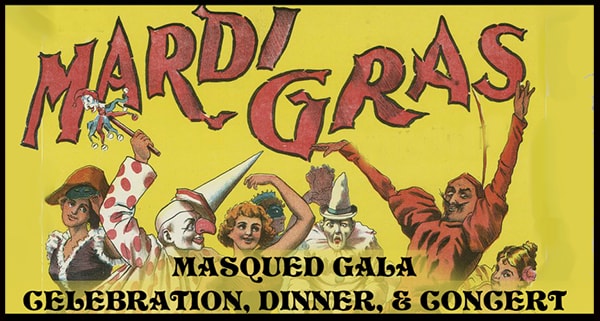 The Oracle Piano Society Mardi Gras Masquerade Gala
Sunday February 25th @ 3:00PM
This Mardi Gras themed celebration will feature pianist Stephen Cook performing works by two legendary American composers. The program will include a collection of Louisiana Creole Pieces written by New Orleans composer Louis Moreau Gottschalk who was America's first virtuoso pianist. Additionally, the beloved Rhapsody in Blue by George Gershwin will be presented in its solo piano form.
Costumes are encouraged!
A Mardi Gras themed dinner will follow, catered by Oracle's infamous Patio Cafe.
Cost of dinner and concert is $150
Cost of concert and reception is $50
Tickets available at:
The Oracle Patio Cafe ☎ 520.896.7615 or ww.oraclepianosociety.org

When making reservations please indicate regular meal, vegetarian meal or regular meal non-shellfish
RECEPTION
Glass of Col Dorato Prosecco Extra Dry Italy
MENU
Course One:
Non-Shellfish eaters can select this menu but specify non-shellfish when making reservation
Crab cake with spicy remoulade and muffaletta salad
2016 Boeger Rose of Primitivo El Dorado County, CA
Course Two
Andouille Jambalaya
2015 Jeff Runquist 1448 Red Blend Amador County, CA
Course Three
Chicken Pontalba – A famous chicken dish from New Orleans featuring crispy boneless chicken on a bed of diced ham, mushroom and potato with white wine, garlic and béarnaise sauce.
2012 Solid Proprietary Red Napa, CA
Course Four
Traditional Mardi Gras Kings Cake (GF)
2015 Vino Noceto Frivolo Moscato Amador County, CA
OR
VEGETARIAN MENU
Course One
Cheesy Grit Cake spicy remoulade and muffaletta salad
2016 Boeger Rose of Primitivo El Dorado County, CA
Course Two
Vegetarian Jambalaya
2015 Jeff Runquist 1448 Red Blend Amador County, CA
Course Three
Portabella Pontalba – A vegetarian take on a New Orleans classic featuring a portabella mushroom on a bead of diced potatoes, tomatoes and black eyed peas with white wine, garlic and béarnaise sauce.
2012 Solid Proprietary Red Napa, CA
Course Four
Traditional Mardi Gras Kings Cake (GF)
2015 Vino Noceto Frivolo Moscato Amador County, CA
---