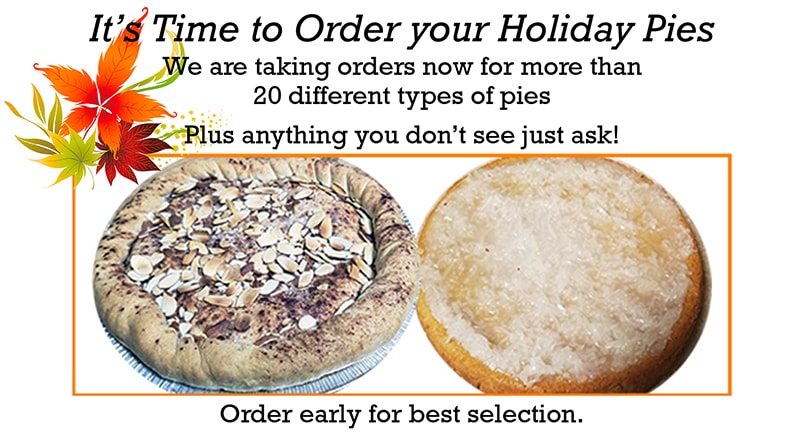 Order by 2:00 on Sunday November 21st for guaranteed availability of all of our pies. You can still order after that date but selection may be limited. We WILL have additional whole pies available for walk-in's on Wednesday November 25th for those of you who like to be spontaneous! We will be open for pick up in the cafe until 3:00 and the market until 6:00 on Wednesday November 25st. Closed Thanksgiving day and the Friday after. We will be back open Saturday the 28th.
Apple, Apple Cranberry, Caramel Apple, Apple Blueberry, Dutch Apple, Blueberry, Blueberry Goat Cheese, Strawberry Rhubarb, Rhubarb, Peach, Peach Blueberry, 4 Berry, Pecan, Key Lime, Coconut Cream, Chocolate Torte, GF DF Coconut Cake, Fresh Glazed Apple Cake, Harvest, Cheesecake, Raspberry Chipotle Cheesecake, Tart Cherry Almond, Peach Cranberry, and of course….Pumpkin!! If you don't see your favorite just ask!
All Pies are just under 12 inches and deep dish they serve 8-10 people
Prices range from $16.50 to $30.00 per pie.
Gluten Free available for most pies just let us know!
☎ 520.896.7615
We Wish All of You a Lovely Thanksgiving!


David & Stacy & The Oracle Patio Café & Market & The Oracle Cookshack Family